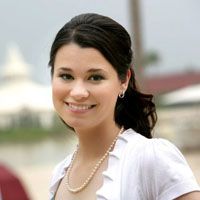 •Danielle graduated from Montserrat College of Art in 2010 with a Bachelor of Fine Arts in Photography and Art History. •She has interned at the Central Street Gallery and Peabody Essex Museum. •Danielle is beginning graduate coursework at Bank Street College of Education this Fall so she can combine her passions of fine art, art education, and museum studies.
1/1

Ok, I promise I won't give an everyday play-by-play on this PEM internship, however, today seems important enough to share.

It was my first real day in the Art & Nature Center. I arrived a little early, scoped out the office, and then learned how to fill and work the interactive art installations. The show that's on display is, Ripple Effect, The Art of H2O - so there are a couple of things that need to be refilled and drained every couple of hours. It's pretty neat to be involved in the museum and feel like I actually get to play a role in the art's functionality. After everything was prepped and ready for opening, I was given an hour to get acquainted with the rest of the art in the exhibition. There are some really gorgeous pieces, such as this:

Water Sculpture #9
2010; Shinichi Maruyama; archival pigment print

So there you have it. Seems like I'm going to adjust to this internship pretty well. I've already been scheduled to come in once a week (Thursdays) plus do the occasional weekend gig. Should be quite interesting!